SL8803 series portable excitation LED light source is with 3 pcs powerful imported LED, portable flashlight design, 15CM super side irradiated area, evenly light spot,
for GFP and dsred excitation observation, widely used in the college, lab and other biological research departments.
SPECIFICATIONS:
Model:SL8803-455(SL8803-525);
Peak-Wavelength:455NM;
Number of UV LEDs: 3 x 5W 455NM LED with lens, average LED life is 30,000 hours
Intensity:15000LX at 15inch(300mm) Power supply: 100-240 universal chargers AC/50HZ; Polymer battery pack DC.
Irradiated Area in 30cm Distance: ○160mm
Stability of UV Intensity: > 90%
Product Size: 73*193 mm ; WEIGHT :400g without accessories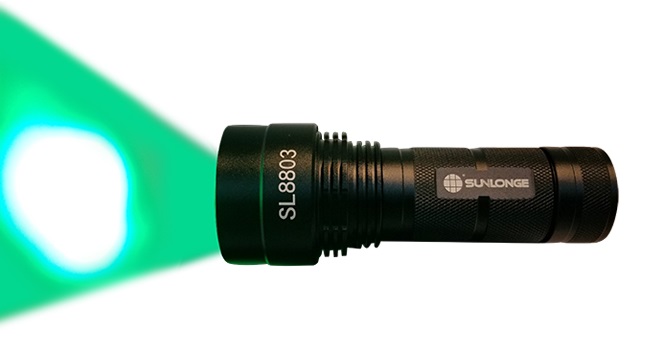 parameter:
Model

SL8803-455NM(SL8802-B)

SL8806-525NM(SL8803-G)

Remark

LED NO and Spe

3个5W 455NM LED

3个 5W 525NM

Customize according to customer demand

365NM,395NM,455NM,525NM,,625NM,one different wavelength combination.

luminance(30cm)

15000LX-455NM

40000LX-525NM

Irradiance(MM)

○16MM—455NM

○130MM—525NM

Switch mode

Tail switch,With battery display function

Lifespan

30000 h

Power

Lithium battery,3H running time for inspection lamp. Side light exceeds 8H.

Size and weight

Aluminum alloy,size:73*193mm; Net: 0.4KG

Accessory

Tripod,protective glasses
Excitation parameter:
| | | | |
| --- | --- | --- | --- |
| Model | Wavelength | Color | Observation filter |
| SL8803-H | 365NM | Purple | UV filter |
| SL8803-B | 455NM | Blue | Orange filter |
| SL8803-G | 525NM | Green | Red filter |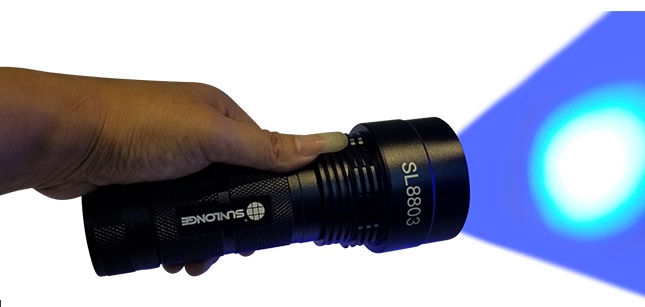 Standard configuration:
Inspection lamp, 2 pairs observation glasses, power adapter, toolbox, manual and certificate
Optional: observation filter.
Application:
· GFP and DsRed detection Gene plants: rice, wheat, corn, soybean, cotton, Arabidopsis.
· GFP and DsRed detection Genetic animals: mice, monkeys, etc.
· GFP and DsRed detection Genetic microorganisms: bacteria, fungi,yeast,etc
· GFP and DsRed detection Genes specific expression