SUNLONGE SL8300 series UV LED Torchlight for NDT
SUNLONGE of Admin
SUNLONGE is the professional manufacturer of UV LED lamps – UV-A Longwave – Ultraviolet black-lights, flash-lights, torch-lights, UV Lamps, Blacklight blue lamps etc.,With the devotion to the NDT filed, technology is our advantage. With the usage of optical lens,

UV intensity is our advantage. The torchlight with 1 LED can be 45 000 uw/cm2 and lamps with 4 LED can be 21000 uw/cm2. With the multiple optical lens, we can customize and adjust the UV intensity according to customer requirement.
We also developed the aerospace version (AR) for some special high-end NDT service demand, etc, aviation and aeronautics NDT service. The ARs comply with the ASTM E3022 and RRES 90061 standard. The visible light emission is limited to 5lux only with white light filter.
We can customize and manufacture the bulbs, HID, UV LED light systems on the demand of clients, since we master the core technology in the NDT field. Then we can meet your every requirement since we are top innovator in the NDT field.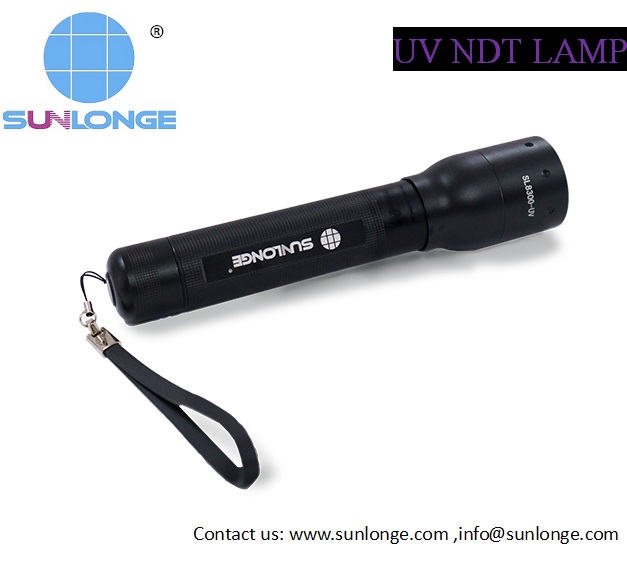 UV LED Torchlight for NDT / MPI / LPT/Crack inspection
UV LED Torchlight/ Flashlights for use in conjunction with fluorescent dye penetrants and magnetic particles for highlighting defects in metals and ceramics.
Examples include; hairline cracks in aircraft landing gear, automotive steering systems and many other safety critical components on which our lives may depend.
Defects literally jump out at the inspector due to the dramatic contrast between the bright glowing image of a defect against a dull background.
Widest range of UV-A 365nm longwave LED lights for NDT crack inspection processes, LPI – Liquid penetrant inspection, MPI – magnetic particle inspection, NDI – Non-destructive inspection from portable UV torches to large area flood lamps – all based on LED of highest efficiency, effectiveness and best quality products.

Features:
Brand: SUNLONGE
Model: SL-8300
True 365nm, single wavelength
Easy revelation of cracks in normal lighting
Highest Intensity & Output
Best Effectiveness
Extreme Efficiency
Cord-less / Wire-less
Rechargeable – Lithium ion battery
Compact, lightweight and durable