SL8906-UB hand held multi-wavelength inspection lamp is with 6 LED built in, including two wavelength combination,3 pcs 365NM UV light and 3 pcs 455NM blue light. (you can choose different two wavelength combination, 365NM, 395NM,455NM,525NM,595NM,625NM,6000K),
white light LED on side for lighting. Principle of fluorescent leak detection: the fluorescent dye will emit bright yellow-green light under the irradiance of UV light(365NM, 395NM)/Blue light(455NM), then the leak site can be located precisely. In real application, a lamp with multi-wavelength can better meet the test demand. According to our full experience in this field, a lamp with two wavelength is a better option. According to the customer requirement and demand from market, we developed the SL8906 series to meet different test requirement.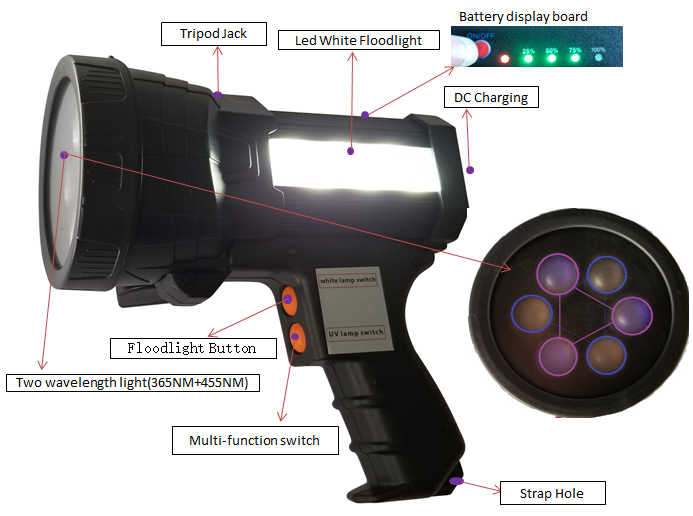 SPECIFICATIONS:
Model NO

SL8906-UB

Remark

LED NO and Spe

3 pcs 5W365NM and 3pcs 455NM LED

Customize according to customer demand

If need,Can be customized: 3 PCS 5W 395NM and

3 PCS 5W 455NM

Side light

6pcs white light LED

luminance(30cm)

28600uw/cm2-365NM;

13500LX-455NM;

Irradiance(MM)

○220MM—365NM;

○180MM—455NM

Inspection distance

10M-365NM;13M-455NM

Switch Mode

1 switch for side light, the other for the inspection lamp.

Lifespan

30000H

Power

Lithium battery, 4H running time for inspection lamps, side light exceeds 10H.

Size and weigh

ABS + Aluminum alloy,Size:180 * 190 * 106mm; Net:0.68KG 180 * 190 * 106mm; 净重: 0.68KG

Accessory

Tripod,protective glasses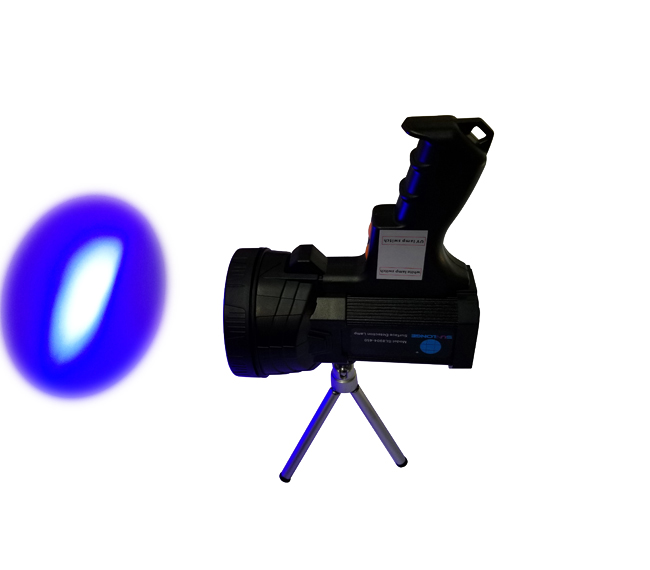 Features:
1. SL8906-UB multi-function inspection lamp is with 6 pcs powerful LED, with 2 different wavelength combination,3 pcs 365NM UV light, 3 pcs 455 blue light. It can meet the 2 wavelenght test demand in the leak detection industry. (leak detection asks the 365NM and 455NM inspection lamp)
2. SL8906-UB can provide the UV-A 365NM and 455NM blue light. The UV intensity can reach up to 30000uw/cm2 and blue light to 13500LX at 30cm distance, meeting the industrial test demand.
3. Tripod can be provided for special request, free from hands, easy operation in different application.
4. We can customize the different inspection lamps according to customer demand, with our optical lens technology.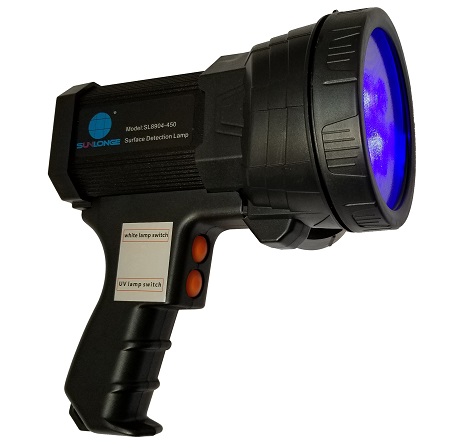 SL8906 series Lamp Abbreviation and code:
SL-8906XX
365NM ultraviolet Abbreviation–U; 395NM violet Abbreviation—V;
455NM blue light Abbreviation–B; 525NM green light Abbreviation–G;
595NM amber light Abbreviation–A; 625NM red lightAbbreviation-R;
6000k white light Abbreviation–W