Being the long player in the NDT filed, Sunlonge is always expanding our UV NDT lamps lines for the NDT industry service.
For the NDT pros, we know the time and efficiency are critical for the industry. So the UV LED flashlight with wide beam can be more suitable for the inspectors. With wider beam, the inspection can be done in much higher speed. More time and labor cost can be saved in the inspection. And SL8803 super UV LED lamp is our answer to that.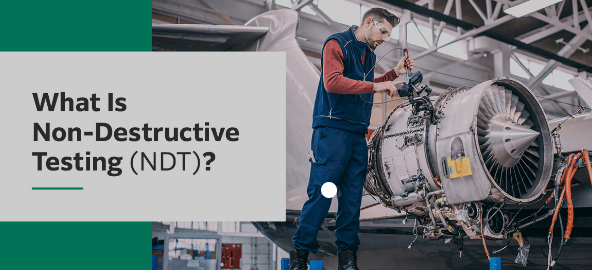 That is why we introduced the SL8803 UV LED lamp. SL8803 is flashlight design with super wide beam area, up to 16CM at 38CM distance, which is equivalent with the hand-held lamp in the current market. SL8803 is designed to prevent some common challenges around UV illumination issues in the NDT inspection.
SL8803 features 3 pcs UV-A LED light source with super beam area. It can produce a nominal steady-state 365NM intensity of 16 000 uw/cm2 at a distance of 38CM in the NDT inspection. This versatile lamp can meet ASTM intensity specs for the FPI and MPI.
Customers using fluorescent or mercury vapor solution now may find that they do not have the coverage that they need to properly and efficiently inspection the parts. Moreover, they also have to deal with the frequent bulb failure, hazardous waste disposal cost, and the swift disappearance of mercury vapor bulb replacement in the market.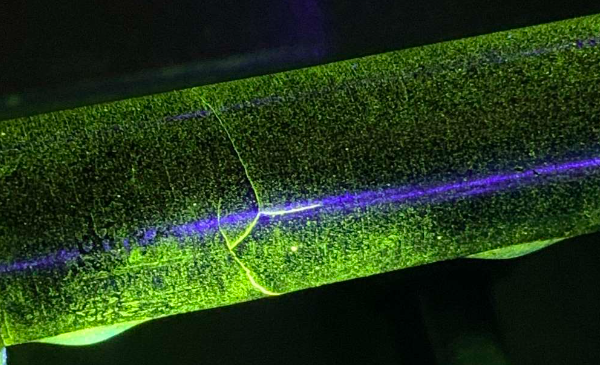 Why the SL8803 can create the UV at such broad beam. Optics are the cause. With the optical lens before the LED source to provide a specific and customized solution. With this, we can adjust the intensity and beam solution according to the very requirement. That makes SL8803 a good NDT lamps product, moreover a strong detection tool for industrial application.
The SL8803 can help the inspectors to quickly examine parts with minimizing handling process, especially for large parts testing. The high UV intensity can help offer a much brighter fluoresces indication and clear for faster detection.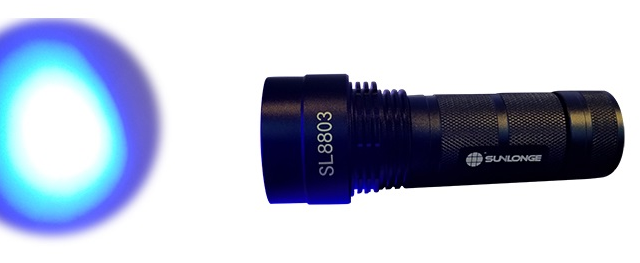 The Sunlonge SL8803 UV LED lamp provides brighter UV light, runs cooler, uses less energy, and eliminates the disposing of hazardous mercury bulbs. It is very reliable and well suited to use in a fixed location.
The SL8803 UV LED lamp is extremely compact and lightweight, weighing just 400g. Just a push of a button turns the lamp on instantly at full power. We believe SL8803 can be a more and more reliable tool in the NDT inspection service.