UVL169 Portable Multi-channel Light Source,
Specification:
Model:UVA169
1. Size: 142 x 45x 25mm Weight: 160g
2. Multi-channels: 365NM,395NM,455NM,505NM,530NM,590NM,627NM,4000K
3. Battery: 3.7V, 18650 Lithium battery, Continuous working : 2h
4. 8 LED lights, 8 batteries, 1 charger,2 pcs glasses, , 1 Professional toolbox.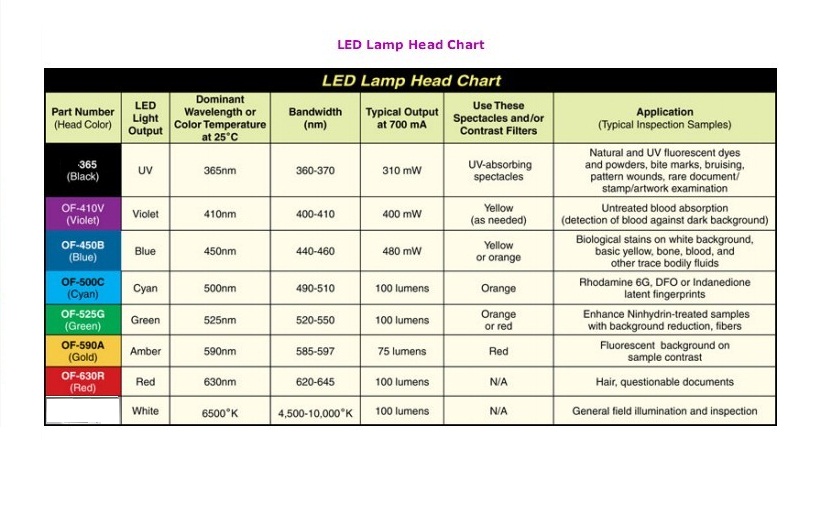 UVA169 Portable Multi-channel Light Source is adopted the most advanced technology of high-power UV LED irradiance chips ,black-anodized aluminum flashlight body. A full-spectrum light source, it provides single-wavelength illumination in UV-A, blue, green, cyan, amber, red and white light. Offers super-bright visible LED optical output and ultra-high intensity UV-A LED performance. Ideal for crime-scene investigation, gathering potential evidence and forensic laboratory work.
Features:
1. Small, light weight, portable;
2. High purity, strong orientation;
3. Flare uniformity: = 85%;
4. Illumination intensity: 30000uW-250LM @ 35cm;
5. Beam diameter: 16cm @ 35cm
6. Each torch has an independent band light, 8 torches can be satisfied of common requirements of light source.
7. Complete accessories, easy to use;
8. Split instruction design, integrative package, convenient for crime scene using and transportation
Application:
Biological stains and latent fingerprints
Blood and other bodily fluids
Bruises/bite marks/pattern wounds
Hair and fibers
Grease, oil and other petroleum-based stains
Questionable documents